Infinitus, Goshen, VT
May 26-28, 2017
100 miles, or 48 hours.
The course is a 7 mile loop, followed by a 20 mile loop. 27 miles total.  My goal was 81 miles, that's three loops. I was one loop short of that—so I only managed 54 miles.  The reason for my failure/readjustment of my goal was a conscience decision, and one that was necessary. 
The race started on Friday, but my day began on Thursday, when I went to setup our tents at the race site.  The wind was howling that day—25 mph with 35 mph gusts.  I setup the little tent with a bit of difficulty.  A new friend helped me with the second tent—the larger tent—even after he warned me that his large tent had blown away.  We set it up, staked it in place, and as we dealt with the rain fly the entire tent picked up and sailed away 30 or 40 feet across an open field. So that didn't work, and the tent got shoved back in the truck.  I left the little tent up, because breaking it down in the unrelenting wind would be an impossible task.  The rest of the day was a wash.  Headed out to find more tent stakes, as I lost six of them in the tent-blow-away, and a motel room for the night.
Race day morning was cold and wet.  The rain started overnight—and apparently poured at times.  I was dressed head to toe in rain gear, and this would be the first time I ever ran with rain pants.  While the pants weren't all that breathable, I knew I had to stay warm in the long day that awaited me.  I always handle warmth better than cold.
There were two races that had started before us—so these trails had been used for days by many people.  The conditions of the trail were appalling, but I mean that in a good way!  The trails were filled with mud pits that were 40 foot wide in places, and 18 inches deep.  Unlike my running companions, I did this race without shoes.  Thus every mud pit I went right down the middle of the trail, rather than skirting around in a futile attempt at not getting muddy.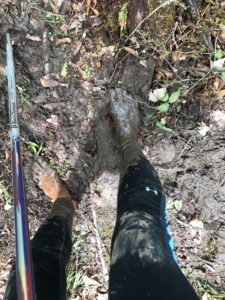 I managed to do the seven mile loop in 2.5 hours—which was 1 hour less than my most conservative (slow) estimate.  By the time I came in, my crew had managed to set up the big tent again.  I changed some clothes, and headed out for the 20—still in good spirits.
The first part of the 20 had us going down hill for quite awhile through Elsie's Swamp before coming to the Falls of Lana.  That was a tough muddy go, but I went along at my own pace.  Climbed up to the top of Mount Moosalamoo, and then descended on the other side.  By the time I hit the only manned Aid Station, Aid 2, I had been alone for six or seven hours.  The two women at the aid station were very nice, but truthfully it took me a few minutes to start talking to them.  I know when I'm tired I have a hard time understanding whether a person is being supportive or phony.
But as they chatted with me very quickly I realized they were being supportive—they were a good aid station crew.  One of them even peeled an orange for me as my hands were too cold to accomplish this simple task.  I enjoyed my time laughing and talking with them.  As I left they assured me the next bit was just six miles, but it felt as if it took six years.  There wasn't anything particularly memorable about this trail, except the views at Sugar Hill Reservoir. 
Eventually though the trail ended and and the Blueberry Hill Inn came into view.  I found my tent, my wife, and my crew.  I was so cold after that loop I could barely move.  My wife and I realized that I needed to change clothes, and find a sleeping bag—I needed to warm up again. 
At this point my original plan—my ideal plan—was to rest for 2 hours, then head out for the next 27 mile loop in the dark. My pacer was already in bed and asleep, waiting to pace me through the night time hours.  I was freezing, the cold and wet of the day had taken more out of me than I had realized.  It wasn't until after an hour or so that I understood the danger of going back out.  There was a worry in my mind that if I headed out and became even colder, that I may go into a cold-shock and turn this race into an emergency medical situation.
So while I lay in the sleeping bag, trying to stay warm and chatting with my friends, I decided to take the night to sleep.  I was mentally exhausted, the night was only going to get colder, making me even more tired.  Moving through the course filled with mud had made keeping a regular pace nearly impossible. 
Saturday:
The next day I woke up at 6am, and we headed out by 7.  This day was mostly a walking pace.  The mud pits I had encountered the day before had just gotten worse.  I had my pacer, Fernando, with me for the first 7 mile loop up to the top of Mount Romance.  During this loop the entire run of 8k'ers, marathoners, and 88k'ers passed us on the course.  I even saw my friend Will who befriended me during my first loop and helped me wade through a crotch-deep river crossing.
The first 7 passed slowly, and during the first part of the 20 we picked up our friend TJ as well.  The three of us went walked through Elsie's Swamp, and up to the base of Mount Moosalamoo. 
During this time we crossed Dutton Brook. Not wanting to have a repeat of the crotch deep crossing I opted to shimmy across a downed pine tree, while trying not to fall or cramp up—it was an adventure!
The climb up to the top of Mount Moosalamoo seemed to take forever.  It was during this time that I felt absolutely completely mentally drained.  One a scale of 1-10 (worst to best) I was at a zero.  I didn't know why I was there, what I was doing, there was just nothing.  I actually had no idea how far into the course I was, how I would get to the top, or how I would get home.  It's a weird and scary run of thoughts.  I didn't even tell my pacer what was going through my head—because I really didn't know how to describe it.  But we made it to the second aid station—and was greeted by my support crew, which was a welcome pick-me-up.
We chatted, and then we headed out for the last six.  Much of this time was spent calculating in my head how much farther i had to go.  I was ready for this race to be done, to sleep and be warm again, and have a beer. 

Upon reaching the Sugar Hill Reservoir we popped our our headlamps and headed down the dirt road.  During this time we heard three owls hooting in the trees. This was a sound I had never heard before—it was amazing to both hear them and see them!  Owls are remarkable and noble creatures.  I took them as a sign of good luck, and continued back into the trails. 
Night time in the trails was a tough, tough go. Every little sound can make you jump and make you fearful of what is lurking in the woods.  But in reality, there aren't many creatures stalking you in this part of the world.  The big animals out there were Black Bear, Deer, and Moose, and most will generally leave humans alone, but it was still frightening.
About 1/2 mile from our destination I slipped and fell on a rock.  I got more muddied than I really ever wanted to be. 
I was so mad I screamed out at the universe!
I was upset at myself for falling, and for doing this race—not in reality, but at that point I had had enough.  My mental state was gone. 
About this time another runner came upon us—she said she had been alone in the dark for three hours.  She stuck with us for the last bit.  We got to talking and realized we were all from the same little section of Massachusetts.
Managed to make it back to the BBH.  Upon reaching the Aid station, I found Andy—the RD—and told him I was done for the evening.  I logged 54 miles, and I was happy to have done it! Andy was congratulatory, and made a point to tell everyone he could find that I had run the race barefoot.
In writing this race report, I realized that this race may have deserved two reports—a general report which this is, and one about my mental challenge.  I definitely reached a new low this time, unlike anything in past races. 
From this race I gained the injuries of a swollen left foot, ankles on both sides are very stiff, and the underside of my right foot looks beaten and scratched.  Also my right tricep is really sore which is probably from using the poles.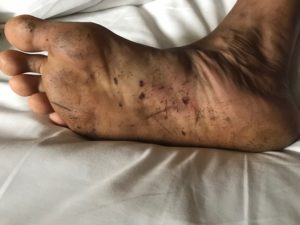 by