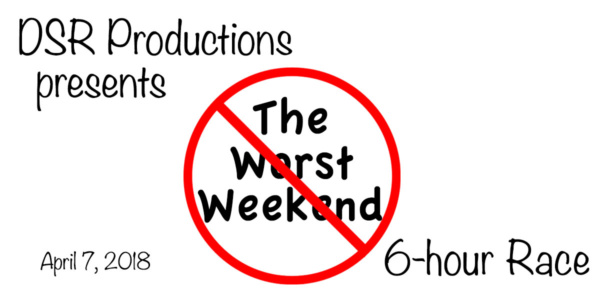 Our third annual 6-hour Fat Ass is scheduled for Saturday April 7, 2018!  The last few years have been a ton of fun putting on our fundraising event, and hope to have as much this year.
The term Fat Ass refers to a race that is put on with very low or no registration fees, no tshirts or medals, and a community supported event.  
We are asking for donations to help support our group, in lieu of a registration fee.  $20 is a suggested donation, and can be made online during registration, following the link at the top of this page, or in person.
Race Details:
Runners start at 8:00am on Sat April 7, 2018, and they have 6-hours to run as long or short as they desire.  Participants are not required to run for all 6-hours.  Many runners choose to run for an hour or two, take a break, and then possibly go out again.  Last year we had a handful of runners out for the full time.
We ask participants to come back to the Start/ Finish area every 2 hours, to check in with the race director (RD).  We will have snacks and a cookout throughout the event.
Course route:
There is none!  This is a choose your own adventure style run, runners are free to run whatever course they choose.  Each runner, or one runner within a group must have a GPS app actively tracking their course.  Upon returning to the Start/Finish area, show your route and mileage to the RD, so that they may be added to your total mileage.
Prizes:
Person with the most miles at the end of 6-hours.
Person/group with the best pics based on our theme.
Person/group with… TBA
Runner finishing:
Runners can officially finish if they are the last person in the group still running, or make it to the 6 hour cut off point. 

Runners can stop running whenever they want, just by letting the RD know at the start finish area.

 

Their mileages will be tallied and recorded on the official list.
Runner disqualification:
Any general childish attitudes toward the RD, host, or any other runner. If you can't be an adult, please stay at home.

Cheating or suspected cheating.

Relieving oneself (urinating and defecating) at the start/finish area in a place other than in a toilet,we are in a neighborhood, and we would like to be good neighbors.
Running strategies:
in order to save battery life on your phone, we encourage groups of people to go out and run together—only one mapping app is needed per group.

By mid-day you may feel hungry, we have food at the start/finish area, runners are encouraged to eat, drink, and rest at the start/finish area.

 

Help us cheer on runners still in the game.
We will have phone charging stations available (a few outlets) should you want to charge your phone.
by