I started out the day thinking I would do the 50k, even though it was going to be cold.  When we got to Barnstable and I stepped outside, thats when I changed why mind—it was cold as balls!  I knew at that point that 50k was not in the forecast. The wind was so cold I wanted to run back to the truck.  That morning it was 19 degrees, with a head wind of 17 mph, that made the wind chill near 4.  I can tolerate a lot of things but I am definitely built for the heat—the cold is not my friend.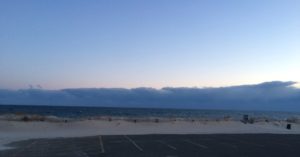 The race, both of them, started out running down the beach.  The race is all sand, hard sand, soft sand, and some rocks.  First is a five mile loop, and then a 10.5 mile loop, which creates the 25k course.  The 50k runners do the same course in reverse for the additional 25k distance. 
Something was said by the race director at the beginning, but I didn't hear any of it.  I was focused on the cold. 
The cold.  I had two layers on the bottom and five layers on top—base shirt, a t-shirt, long sleeve, my thick Under Armour jacket, and then the shell/rain coat.  Three hoods too, orange fleece balaclava, the thick hood from my jacket, and the hood on the rain coat.  The bottom consisted of wool socks, running tights, and lined track pants as the final layer.  All of that kept the wind at bay but barely kept me warm on this first bit running in to the wind. 
Chugging along, I knew I had to the get to "the Point," which was the turnaround and when we could get behind some of the dunes.  Dunes are your friend in this race, they provided a wind break.  The area behind the dunes was lovely, I stripped away layers on my head, and let my scalp breathe again.  But that only lasted a mile, then we were back on the the beach headed toward the start/finish area.  The beach wasn't bad this time since we were running with the wind at our backs.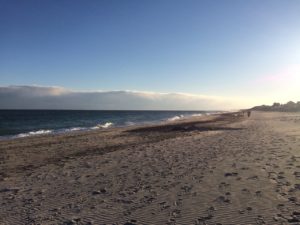 After the first 5 miles, which only took an hour, I made a quick pit stop at the very windy porta-potty, and then headed out for the longer 10 mile loop.   I was definitely at the back of the pack by this point.  The 10 mile loop headed down the access road until the gate house, and then a left into the trails behind the dunes.  I followed two women who were running and chatting, and seemed to know where they were going.  We took a left at a small shack, and started down a wide trail.  Fairly quickly we all noticed there weren't many footprints in front of us, and collectively came to the conclusion that we had turned too soon.  The beach could be heard on our left, and the dunes were to our right—this definitely wasn't correct. 
Heading back down the access road, we found the actual trail, which was filled with footprints.  This next stretch, until the next turnaround point, was 5.5 miles long.  I knew I would have to settle in for a long haul.  About half way through I could feel a bit of a blister forming on one of my toes—but it was far too cold to check on it.  The thought of exposing any bit of my extremities was agonizing.  So I tried my best to put it out of my head. 
I passed a few people on the trail, trying to run faster on the hard pack areas, knowing that I would slow down on the soft sand.  The wind was once again on my back, which was lovely, and I enjoyed the scenery, looking at the small summer shacks along the way.  Most of them had a grill, some beach chairs.  I wonder what its like to have a shack on a major beach on the Cape.  It's not a life for me, I need trees and quiet around me.
We were told to pass 3 side trails before coming up to Trail #5, which would loop us back to the beach.  After 1.5 hours I was thrilled to find it, as this indicated I would be heading back to the aid station and my car—which had heat!  Making the turn the trail through a scrubby pine forest. I love meandering through these little Pine trees that spring up along a beach, a visual break from endless sand dunes and beach grass.

But the scenery didn't last long as the trail opened to the beach, and in a direct blast of wind!  The wind had picked up, now blowing close to 20mph, and while the sun was out, this was a bad situation. Very shortly after starting this last 4.5 mile section, I wasn't sure if I would make it.  This was a scary point in my head. On the one hand I knew I had to keep going forward to get to my destination, but on the other the wind was going to rip away every last bit of heat from my skin. Even with all of my jackets fully zipped, and having created a warm air bubble of air for breathing within my balaclava—I was still freezing cold. 
I seriously worried about passing out on the sand from the assault of cold air.  I wanted to stop due to being cold, or tired, or exhausted. But in the same moment of that fear, I knew that I had to push myself every time I worried my journey.  There was no aid station behind me to take shelter, no where to go except forward. 
"I go forward down the hard road."
Something I mutter to myself, though not in English, when I'm in a tough spot. As a reminder that I enjoy being challenged. 
A beach course offers no delineation.  There was no meaningful way to judge how far you've come or how much is left to go.  In front of me stretched the vastness of the sand—ocean on the right, dunes on the left.  The only feature of the end point was a grey building with a cupola on top.  But from the 4.5 miles away, it was not visible.  Even when it came into view, it seemed to remain at a fixed distance, no matter how much closer I would have obviously had to have gotten to it. 
As I was running I tried to find the most firm area of sand I could—firm sand meant running farther with the smallest amount of energy.  But at the same point I also felt that running on the soft sand would be better as I would be working my legs harder and creating more body heat to stay warm.  So I found myself varying my running surface, which helped entertain my legs by forcing my muscles to be used in different ways.  But doing this also meant that my knees were bothering me more and more.
About 1 mile out from the finish line, I started seeing the 50k runners doing their second loop.  Their course took them the opposite way they went the first time—doing the course backwards.  During this time I saw my friend Fernando, doing another figure 8 loop.  We wished each other luck, and he said he'd be back in 3 hours. The last 1/2 mile, i definitely walked.  My knees, hip flexors, and hamstrings all ached.  I had had enough fun for the day.  The thought of having to go out again for another 25k was not pleasant. 
The aid station offered a toasty warm room, with several propane heaters going, and a bounty of food.  I received a fancy half quahog shell for the efforts that day.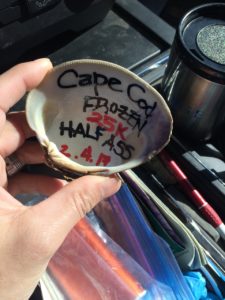 Having had the chance to change and warm up after my run, I can find no evidence of a blister on my toe, although there was a ton of sand in my shoes and socks. 
Overall I wasn't expecting much from my performance today, but I did get a real test of how much cold and insufferable wind I could deal with, and it was more than I would have thought.  That's a win for me!
by