Running the Midstate Trail with Alex.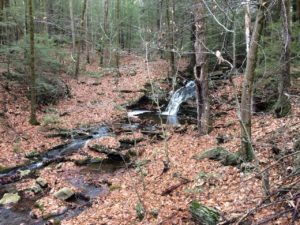 What a day!  I just got home, its 4pm, I left the house at 6am this morning to drive out to Charlton so that Alex and I could finish the last 23 miles of the Midstate Trail.  We have been running this trail in segments for quite awhile.  The Midstate trail is a 90-something-mile trail that cuts down the middle of MA.  It tries to weave through the woods as much as possible, but inevitably there are some road sections, particularly when crossing major highways.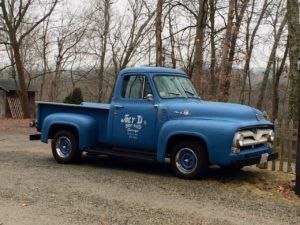 But now having just arrived home, what do I do first?  Shower or take a nap? I am spent!
Well that's not true.  I'm tired, but not spent.  Spent is barely crawling to Josh's car after finishing 60 miles at Ghost Train, last October.  Spent is not being able to lie still after doing my first 200-mile relay.  But this was not as bad as those days.
Today's 23 mile trip started just past the cow tunnel in Charlton.  This was our last segment.  I knew before going into it that I hadn't done a long trail run like this for a few months.  Prior to Ghost Train, I believe my longest training day was a trip out to Killington Mountain with some friends back in July.  That was only 17 miles, but 4200' of elevation.  That was a tiring day as well, but I definitely wasn't spent at the end of that either. 
So back to my dilemma, what do I do first?
Sleep is tempting as I haven't slept much in the last few days, because I've been dealing with a cold.  Sleep with a cold always involves waking up every few hours and coughing for 30 minutes. But I'm also covered in dried sweat.  The day started off in the 30s, and I had three layers on top, and full tights on the bottom.  But it warmed up to nearly 60, which translated to running in my sports bra and a balaclava.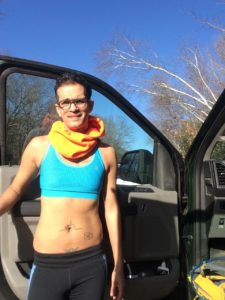 The day seemed to go by pretty quick, at least in my head.  I sometimes overestimate how long a trail run will take, especially in "unknown lands."  The trail sections weren't difficult, technical, but not overly hilly. The road sections had more of the hills, but I remembered to slow down and walk when I felt tired.  I expected the day to be a long one, and I didn't want to waste all my energy climbing pavement hills.  Going through some of these areas in Central Mass I am never sure who we're going to come across on the trails, or how nice they will be.  For the most part everyone's fine, but once in awhile you see people staring at you through a part of the forest that has no trails, or there's a car going by that honks at you.  These are times where its easier when you're with a second person. Sort of a strength in numbers, you can let down your guard a bit, and still watch out for one another.
But none of that really happened today—which was refreshing.  When we arrived at Douglas State Forest, the last 10 miles of our journey, we were coming across more people.  Usually couples, sometimes a pair of friends with a dog, but everyone was nice—saying hello, and restraining their dogs.  We even came across four guys who were doing some long distance hiking.  They had settled down near the trail, and were starting a fire.  As we ran past, they all smiled, and said "hello."
I knew I was going to get stuck in my own head a lot today.  I'm not worried about anything in particular, but lack of sleep, and this time of the year make me more likely to focus on my faults.  In the last 6 or 7 miles my mood really started heading down hill.  I thought at first it might be low blood sugar, so I sipped on my Tailwind water a bit more. I had just eaten my last Orange and didn't have anything else sugary with me.  I was going to tell my partner in crime, but it didn't seem too relevant—I was ok, I could make it through to the end.  But my attempts at squashing my depressions didn't work well, and there were some really dark moments in my head. This isn't something that really worries me longterm, I'm sure these thoughts are always in my head but I'm usually in a better place physically to deal with them.  Again, having low blood sugar definitely brings the emotions to the surface. 
Another check on the map, and I could see we were in our last mile.  I just pushed through—I really wanted to see the final marker on the Midstate Trail at the RI border, and was relieved and joyous when we found it.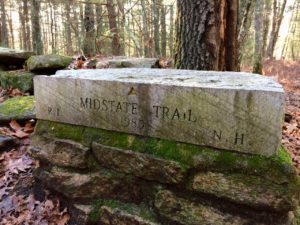 On our way back to the truck Alex and I got to talk, and my mood improved almost instantly.  I realized at that moment that I had forgotten how much talking and chatting with another person on these long trips is very important. Alex is a much better runner than I am in many ways, and she is much faster than me, so for much of this trip we were separated, especially when I chose to walk, or for the occasional photo op that I took.  I was fine with this because I know when I do my races, I'm usually alone, and I have to have the mental fortitude to push through those dark times.  I just took this day as training for that scenario.  In practice though I realized that having some simple, brief conversations really lifts one's spirits.  At some point, we'll put together a plan for more trail adventures, and I will have to remember to keep a conversation going, at least for part of the trip.
I've been dicating this memory into my phone for the last 15 minutes, at this point I've decided—I have to take a shower first, the nap can wait until after. 
by