This is Version 3 of my Winter Running Attire posting, originally published in 2014.  This is meant to be used as a guide for running around the mid-New England area.  Obviously if you're going to be up in the mountains of New Hampshire this will not be an adequate guide.  As with anything, use your personal judgement.
Here's a bunch of our yahoos running in the midst of a winter storm.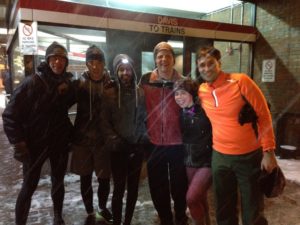 The question of winter running attire comes up every year, as winter approaches. Many runners who enjoy running in the warmer months don't know how to deal with the falling temperatures, and then simply don't run in the winter. For many years I was in this category as well. I personally hate the winter and had always been a summer runner. However after finishing my first half marathon, in the fall of 2011, I didn't want to give up on all of my training and hard work. I wanted to keep pushing through the winter, which meant learning how to dress properly, but it's not difficult!.
Starting out I really knew nothing. I didn't want to have to go out to the store and buy a ton of expensive clothes, since I didn't have the money for that. But I also didn't want to deal with unnecessary chafing, or the worry of having sweat sticking to me while it was very cold out.
If you are tight on money, a couple of items will really help you out:
A long sleeve wicking thermal top;

A pair of track pants with a nylon top layer, and/or compression tights.

Some wool, or smart wool socks
a hat and gloves
After this, even if you were had to run in cotton shirts, you would be fine for short periods of time–unless you're in sub-zero/arctic temps. The danger with wearing cotton during cold weather physical activity is that the sweat will be soaked up by clothes, quickly become cold, and thus you open yourself up to becoming hypothermia. Synthetic fibers, and wool, will pull sweat away from your body and allow it to evaporate, keeping you warm.
Below is a list of cold weather running clothes that I have acquired over the years. Buying all of the stuff at once will definitely make an impact on your wallet, I buy things slowly over time. Sometimes finding cold-weather items at the end of winter, or at the beginning of fall, will get you the best discounted prices.
Cold weather running is all about layering.  There are 4 layers I'll talk about here:
Underwear layer

Base layer

Meat layer

Outer layer/Shell
Underwear layer:
This layer should be whatever underwear you're comfortable with. There's nothing more basic than being comfortable, and/or being supported. Wicking underwear is the best at pulling sweat away from the skin.  Both men and women can find wicking/synthetic fiber underwear.
Base Layer: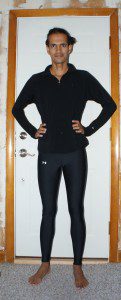 The long sleeve wicking top pictured has a quarter zip which allows for the collar to get zipped up during cold mornings or opened when you get warm. The sleeves come down over the wrist, and have a thumb hole to keep them from pulling back up. I personally love having the long wrist sleeves with thumb hole, as its guaranteed that my wrists will be shielded from any cold air.
Compression tights keep the cold air out, but never become too warm. Some people put on shorts over the compression tights. This is certainly up to you, but I have not ever found the need.

The Meat layer: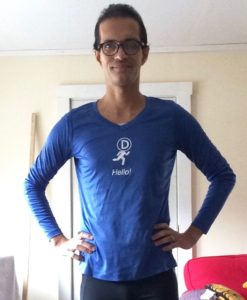 The thickness of this layer depends on how cold it is outside. On top of a thermal top, a short sleeve or long sleeve tech shirt can be next. Layering two long sleeve tech shirts on top of one another also works on colder days. Tech shirts are generally made of polyester and dry very quickly.  They are the shirts that most good races will give out as swag, and are the materials in most cycling jerseys.
As for your bottom half, I have found that the compression tights don't need an additional layer on top of them, unless it's below 5 degrees or its snowing.  Then a pair of nylon track pants works well.
Outer layer:
This is the outermost layer of clothes that you will be wearing. On fall days I will sometimes have my underwear layer, my base layer, and then an outer layer–completely eliminating the Meat Layer.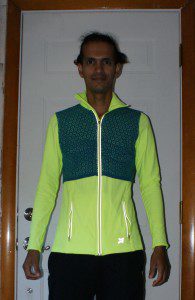 A lightweight jacket, with a full zipper, helps during the cooler days at the start of fall. This particular jacket, from City Sports (now defunct), has thumb holes, is made of synthetic wicking fabric, and is warm.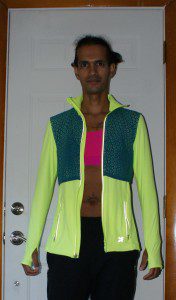 During the cool days of fall, I will sometimes forget the thermal top and wear this jacket so that I can unzip to either a tech shirt, or a sports bra.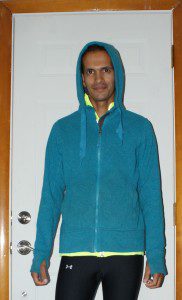 As the weather turns colder, I will sometimes add a second jacket such as the one above. This jacket is thicker than the first one, but still allows moisture to be pulled from your body. As with other tops that I own, there are thumb holes on this jacket.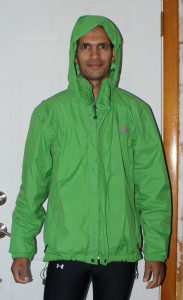 On the extremely bitter-cold days, or days that we have freezing rain, I suggest a windbreaker type jacket. This type of jacket does not allow wind or water to hit your core. While this is extremely effective, it should be noted that any wicking material underneath will leave sweat on the inside of this type of jacket since it can't evaporate. For short runs this isn't a problem, but for longer runs the sweat will eventually cool you down.
Hats and such: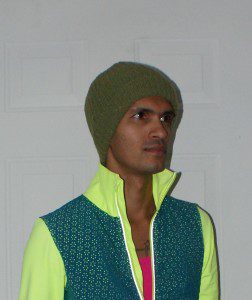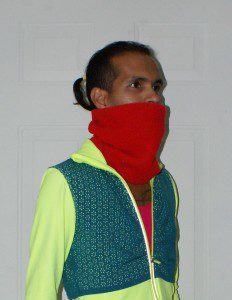 For more protection a Balaclava may be need it. This handy little invention covers both the head and neck. These tend to be very warm, and allow the user to pull back the headpiece when they get warm.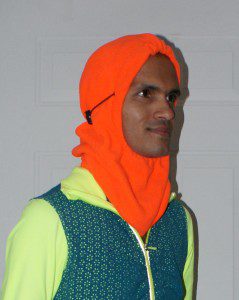 If you wear glasses, and want to go running through a snowstorm, a pair of ski goggles may help. This will keep snow and ice from forming on the surface of your glasses.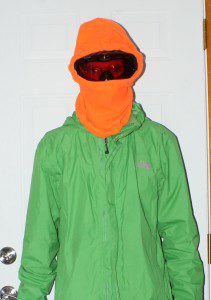 Gloves: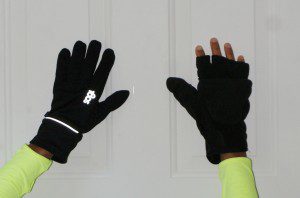 Here are two basic types of gloves. The one on the left is a thin synthetic glove, while the one on the right is a fleece glove/mitten combination. Which one of these you wish to use is really up to you. I will usually go with the glove/mitten combination, because it allows me to use my fingers with my phone. They do make gloves these days with fabric that allows you to use your phone through the glove, but I have had mixed results with these.
Sometimes on really cold days I will even put on a pair of disposable vinyl gloves underneath the glove/mitten combination. The disposable glove gives added wind protection–it's much like a mini greenhouse for your hands.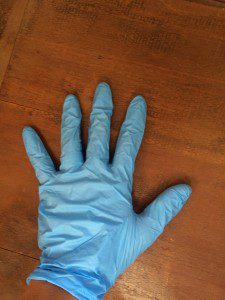 Phone protection
On the subject of wind protections, some of us have found that our phones are affected by the cold weather as well.  To that end a simple ziplock bag helps to cut the wind, as well as the rain.  The face of most touchscreen phones still work through both the vinyl gloves, as well as the ziplock bag.  For added protection from the cold, putting the phone & bag combo inside a sock, works as well.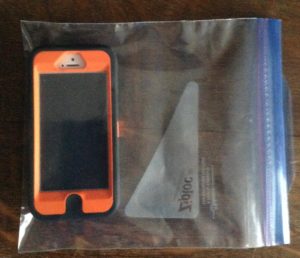 Footwear:
Most people wear socks while running during the summer. I don't usually, but in the winter I will. Generally a wool sock, or some sort of synthetic is best, these will pull sweat away from your skin, while cotton will not. . However I've found that a cotton sock will do fine during most runs.
For those of you who wear Vibrams, Injinji makes a variety of toe-socks that will work through the winter months.  Also a quick search on Amazon will reveal all sorts of toe-sock options.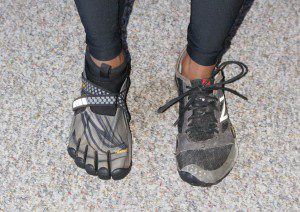 Traditional shoes, minimal shoes, or the Vibrams all work just fine in the snow and ice. The Vibram Lontras pictured here (left) are made for the winter. They are waterproof, and have thicker upper and lower pieces so that your feet stay warm. Minimal (right) and traditional shoes also work in the snow.
When running through soft snow, there is not a hugely different technique that needs to be learned.  The thicker the snow, the slower you will be able to run.  But when running on ice, it's important to remember that you'll need to change your gait slightly.  Ice running doesn't mean that you definitely need cleats, slowing down and keeping your weight directly over your foot fall will help your traction.
If you are looking for cleats, Yaktrax makes cleats that you can wear over most shoes, and works well for running in this area.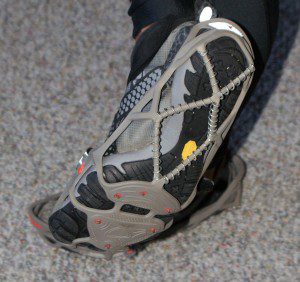 This model has six spikes just under the ball of the foot, and some steel spirals under the heel and midfoot. I have used these while walking down icy steps, or driveways, and they work quite well. The reason I don't use them while running is that when you hit areas of pavement that are not icy, the Yaktrax become uncomfortable.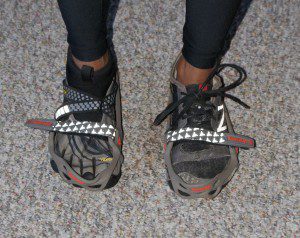 Also the Yaktrax don't work well with the Vibrams (left). While they were look like they will stay on, they really will not. The Yaktrax work well for a more conventional shaped shoe.
Hopefully I've covered everything you need.  If anyone has questions, please ask. =)
Happy running.
by